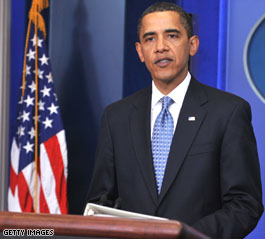 Wall Street manages modest gains on the first day of May as investors consider economic news, profit reports.
NEW YORK (CNNMoney.com) -- Stocks rose Friday, as a few better-than-expected economic reports and a rally in oil stocks gave a boost to the broader market.
The Dow Jones industrial average (INDU) gained 44 points or 0.5%. The S&P 500 (SPX) index added 5 points or 0.5%. The Nasdaq composite (COMP) rose 2 points, or 0.1%.
Stocks slumped in the morning, seesawed in the afternoon and then made a run higher near the close.
All 3 major gauges ended higher for the week. The Dow and S&P 500 have now gained for 7 of the last 8 weeks. The Nasdaq has gained for 8 weeks in a row.

Stocks are coming off a strong April in which bets that the economy is close to stabilizing fueled a big run up. For the month, the Nasdaq gained 12.3%, the S&P 500 gained 9.4% and the Dow Jones gained 7.3%.

"April ended with some substantial gains after we had some economic numbers that suggested the worst is over," said Peter Cardillo, chief market economist at Avalon Partners.

He said that this improved outlook should continue to benefit stocks in the weeks ahead, but that equities could be a little vulnerable next week.

"There are some questions about the results of the stress tests and what those results will mean for the market," he said.

The results of the "stress tests" of the nation's largest banks is expected late Thursday, a government source told CNNMoney. Results were initially expected to be released this Monday.

Next week is light on profit reports with the focus on the economic news. A pending home sales report Monday and the April employment report Friday are the highlights.

Chrysler: Chrysler filed for Chapter 11 bankruptcy protection Thursday after failing to reach a deal with some of its smaller lenders to cut debt. But a deal has been negotiated to combine the company with Italian automaker Fiat, allowing Chrysler to stay in business.

Investors seem to be reacting well to the Chrysler bankruptcy filing, perhaps out of relief that at least the uncertainty is over with, said David Levy, portfolio manager at Kenjol Capital Management.

"It's similar to what we saw with the banks," he said. "Now that there's resolution with one company in a group, we have something of a roadmap of what could happen should GM fail as well."

Chrysler is privately owned. Shares of rivals General Motors (GM, Fortune 500) and Ford Motor (F, Fortune 500) slipped Friday after rallying Thursday.

Auto sales: The major companies were reporting April sales figures throughout the day.

Ford Motor reported a 31.6% drop in sales versus a year ago, a steeper decline than expected. But the pace of the decline was smaller than a month ago.

GM said sales fell 33.2% from a year ago, beating forecasts. But sales were an improvement after the 45% decline in March.

Toyota Motor (TM) reported a worse-than-expected April sales decline of 41.9%. Toyota's March sales fell 30.9% versus a year earlier.

Economy: The Institute for Supply Management's manufacturing index rose to 40.1 in April from 36.3 in March beating forecasts for a rise to 38.4. Any reading under 50 indicates the sector is still contracting, but the report was consistent with other recent signs that the pace of the economic slowdown is easing.

Another report showed that consumer sentiment improved in April. The University of Michigan's consumer sentiment index was revised up to 65.1 from a previous reading of 61.9. Economists thought it would hold steady.

A third report showed March factory orders fell 0.9% after rising 0.7% in February. Economists thought orders would fall 0.6%, on average

Corporate news: Dow component Chevron (CVX, Fortune 500) reported a big drop in first-quarter sales and earnings, that missed expectations, due to a steep drop in energy prices. Shares of the No. 2 oil services firm ended higher.

Fellow Dow component Exxon Mobil (XOM, Fortune 500) reported weaker sales and earnings Thursday. Shares gained 2%.

MasterCard (MA, Fortune 500) reported weaker quarterly earnings that topped estimates on weaker revenue that missed expectations. Shares fell nearly 6%.

Citigroup (C, Fortune 500) is selling its Japanese retail brokerage business to Sumitomo Mitsui Financial Group in a deal worth $7.9 billion. Shares fell 2.6%.

Market breadth was positive. On the New York Stock Exchange, winners beat losers three to two on volume of 1.29 billion shares. On the Nasdaq, advancers topped decliners by a narrow margin on volume of 2.17 billion shares.

Bonds: Treasury prices slipped, raising the yield on the benchmark 10-year note to 3.15% from 3.14% Thursday. Treasury prices and yields move in opposite directions.

Lending rates were mixed. The 3-month Libor rate fell to 1.01% from 1.02% Thursday, according to Bloomberg.com. The overnight Libor rate rose to 0.24% from 0.23%. Libor is a bank-to-bank lending rate.

By Alexandra Twin, CNNMoney.com senior writer